The "schienenbus", called "railbus" in Dutch, was the savior of the German local lines in the XX's. With these buses on rails, travelers were taken to the main network to continue their journey by intercity trains. The importance was also recognized by the Deutsche Bahn and in the early 1980s these buses were replaced by more comfortable trains and trains.
Many of these iconic rail buses were given a different destination, most of them headed for demolition. The VB 98 115 could look forward to an exclusive application in 1982, namely as an inspection car for the sections of the S-Bahn. This model has now been released by Minitrix.
The great example
In order to function as an inspection car, the train set had to be considerably modified. There had to be room for a table, for consultation. A small kitchen was also desired, including sink. The atmosphere was also slightly increased by installing a carpet and curtains.
The car mainly commuted in the Rhine-Ruhr and Rhine-Sieg area, near Bonn. In order to have a good view during the inspections, the car was fitted with a flat wagon on both sides. The Kkklms 440 are ideal, as they do not have a brakeman's cab that obscures the view.
There is little footage of the locomotives that provided traction. A BR212 as suggested by Minitrix could very well be. In the model world, a BR111 or BR218 (both also from Minitrix) in the same orange/grey color scheme are also possible.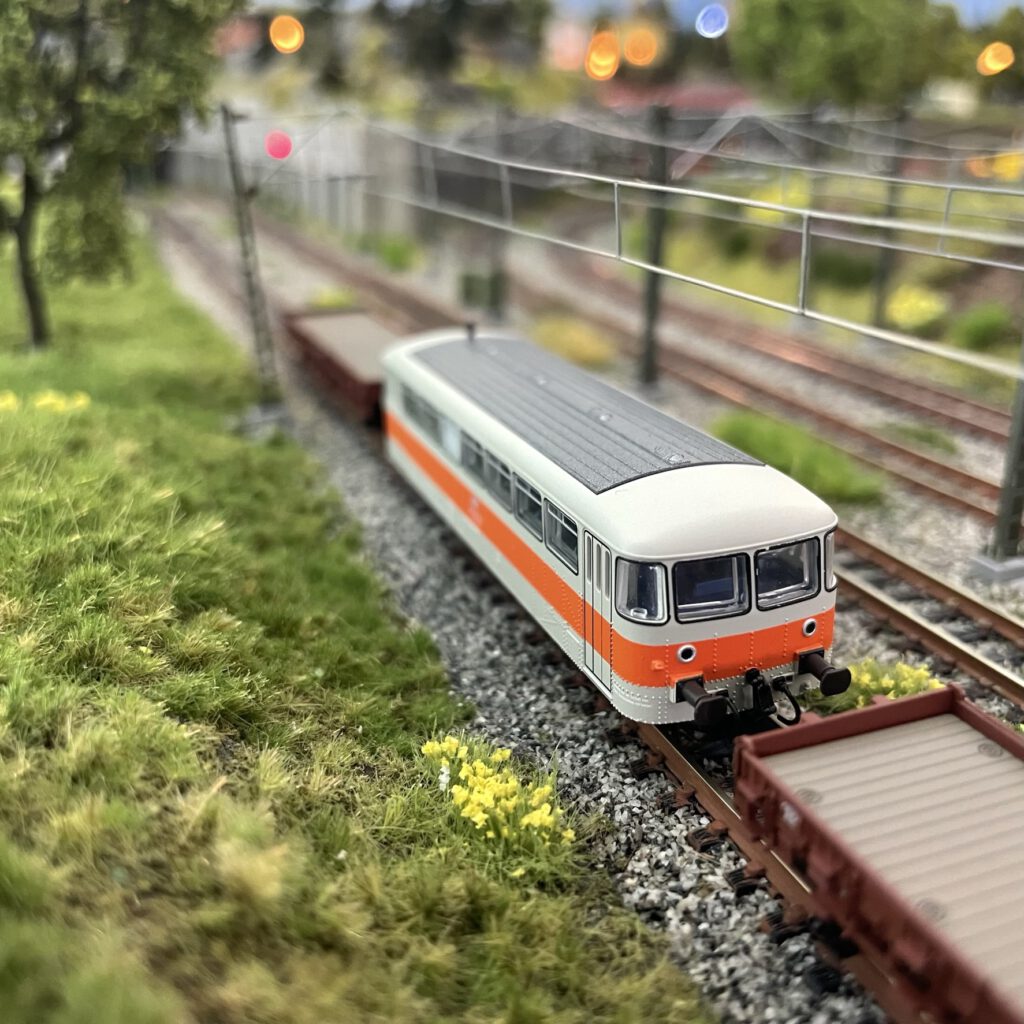 The model
The model is beautifully executed. The color scheme matches perfectly with previously released models, such as the aforementioned diesel locomotive BR218. Inscriptions, grilles, rivets, are all correctly executed in detail. The (imitation) couplings and air hoses are included and are easy to assemble.
There is little to fault with the exterior. Except for the wrongly sprayed orange connection at the front. The wagon is standard digital (DCC). Despite this, no driving lights have been fitted. The only thing that switches the decoder is the way too bright LED interior lighting.
And then you see a facility that is far from being in line with reality. Minitrix has included a standard layout for a passenger rail bus. The table, the small kitchen, the curtains, which make the VB 98 so special, have been omitted.
The driving characteristics are reasonable. The tugs for the current take-up put a lot of pressure on the wheels, so that the bus does not roll well on its own. The fixed coupling rods with the flat wagons also make for less smooth maneuvering in bends.
Nevertheless, it is a beautiful performance. A show model that will be a real eye catcher on many scale N lanes.
Inspection car
Supplier: (Mini)Trix
Item number: 15091
Target price: € 179.00 (digital)
This article is also available in:

Nederlands