The BR111, in its orange / beige version, is probably one of the most iconic locomotives in German S-bahn traffic. And even broader than that. The BR111 has also been used extensively for other fast train services on the main network. Scale N enthusiasts who drive digitally have the choice of a Fleischmann or Minitrix version. It turns out to be choosing between two evils.
Minitrix BR111
The Minitrix(16114 / 16115) has already been announced in 2019. The locomotive turned out well in terms of coloring. This applies to all items from Minitrix in the S-bahn colors. Out of the box comes this locomotive with decoder and sound. The sound is good and the number of available sound functions is also more than adequate.
What is annoying is that the lighting shines through on the underside of the locomotive. The rails are lit at the bottom of the locomotive! And that's for a whole new model. Ultimately, this can be fixed with very minor surgery. Cut a strip of paper to size and slide it in. Apparently, that couldn't be added for a locomotive costing over 200 euros.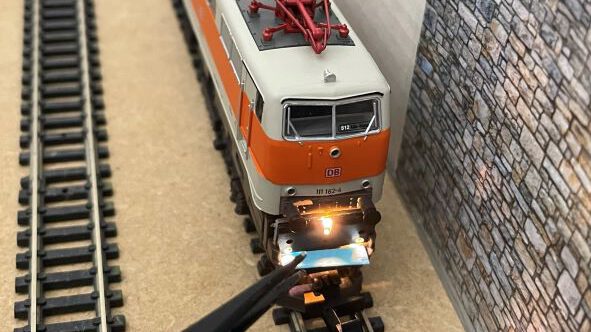 Fleischmann BR111
The Fleischmann locomotive (734607) was released a year later, in 2020. Anyone who wants to drive digitally should buy a model with a built-in decoder. On Youtube there is a brilliant video that clearly shows that retrofitting a decoder is totally impossible. Despite the fact that the locomotive is prepared for this. A version with sound, was never made in this color scheme by Fleischmann.
That it is a newer model; is particularly evident in the refined rendering of the air vents and horn on the roof. Unlike Minitrix, it is not molded in, but is actually loose on top.
The choice
The choice finally falls on Minitrix, because of the built-in sound decoder. The ride quality is good; as is the sound. Minus point is and remains the finish; with lesser detailing and translucent light that you have to fix yourself.
This article is also available in:

Nederlands