With the right scenery, you can turn a toy train layout into an attractive professional model railroad. Houses and trees are placed; streets laid. And the road markings mostly forgotten. There is no longer any reason for that with the products of the new company Mobax. The five things you need to know about Mobax are in this interview.
1. Who are the people behind Mobax and what does it stand for?
Mobax was founded in 2021 by Mischa (40) and Eike (37). They have been friends since early school days and eventually decided to start a small business together while working on their N scale models. The company is based in northern Germany.The name Mobax comes from the German abbreviation "MOdellBAu X." The "X" has been added, to leave room for additional model railroad supplies.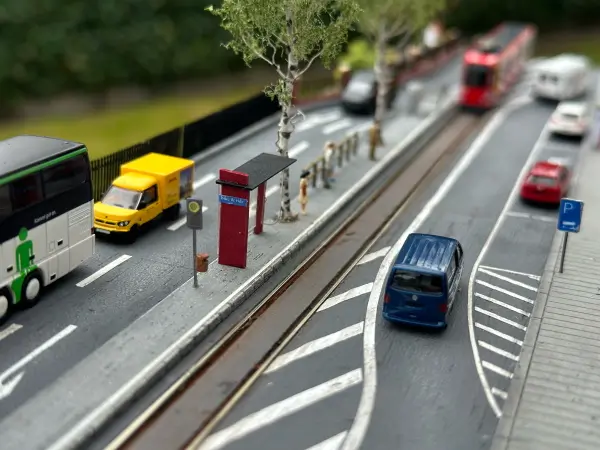 "There is no larger company behind mobax. We run the company as a two-man operation and will continue to do so for the foreseeable future, which gives us a lot of flexibility," says Mischa. For the pilot and pharmacist, this means a lot of evening hours. "But the overwhelming feedback throughout Europe gives us a lot of energy and new ideas," says Eike beaming, "furthermore, we like to develop all designs ourselves and produce all markings locally in Germany."
2. Where did your love of scale N, or model railroading in general, begin?
"In my father's basement," laughs Mischa, "he had a typical scale N layout. A few tracks and trains on it. As we got older, our goal was to make a more realistic layout. With unique scenes". Helicopters, a festival and other detailed scenes were added to the layout.
3. Street marking in scale N. Not the first thing you think of when you think of model trains, how did you guys come up with this idea?
"One day we got pretty frustrated because we had spent so much time building our N scale models realistically, only the streets didn't look the way we had wanted," says Eike, "we first tried all the available market solutions and were really disappointed. They were very difficult to handle, not the right size or just not realistic."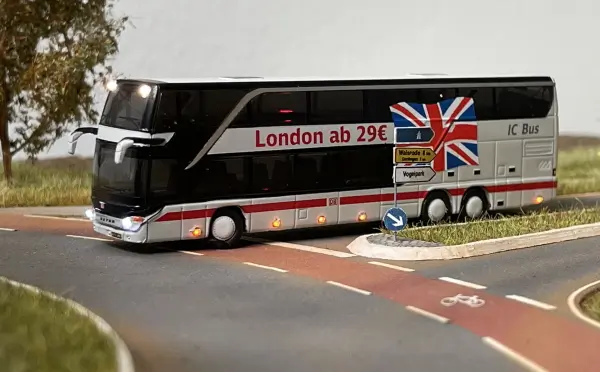 The gentlemen began working on a solution of their own. Armed with measuring tape, they ran through the streets to measure markings. It took some time to find the right materials because they have to last a long time, be thin and stick to different substrates. In scale N, this is literally working within millimeters.
Meanwhile, design and production are based on the official guidelines. Everything in Germany.
4. Was it difficult to get production in order?
The small sizes are the trickiest. A good (scaled back) design in scale N can become so small that it becomes unwieldy for a human hand. "The list of examples where the design becomes too small for the film is also long," Mischa chuckles. Redesigning and adapting is the solution.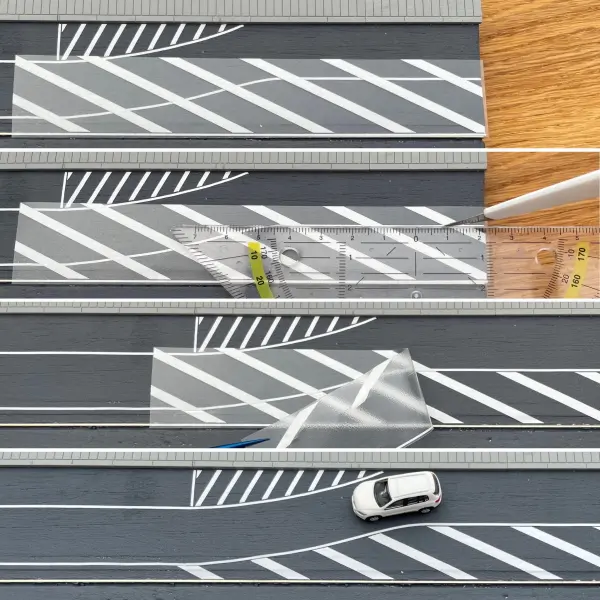 And then the markings should end up on the film. The intensive cooperation with a local manufacturing company helps tremendously in this regard. Finally, remove the excess film around the mark after plotting. This must be done by hand and adds significantly to the complexity of production.
Because Mobax is a small company, user feedback can be addressed quickly. Thus, many sets have been further optimized based on scale N enthusiasts who use the products.
5. The ideas for road markings are obviously endless; what other products will Mobax develop? Will it be more than road markings?
"Not the latter," says Eike, "we started with typical German road markings. Soon we added markings from other countries, such as Switzerland and Austria. The Netherlands, France and Italy are being worked on." By the way, the collection in scale N is broader than just road markings; there are also various illuminated signs for making matrix signs above the road.
"We also create custom markings upon request," continues Eike, "we have had several examples where customers have asked us for specific designs, such as airport markings. We are always happy when we can help create unique and realistic model designs!"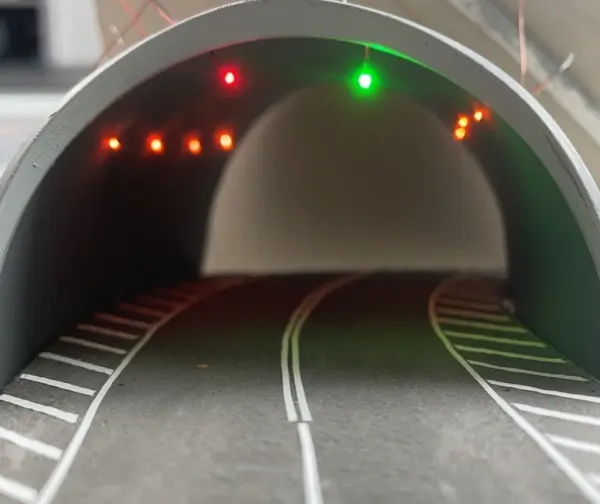 Win Mobax goodies at 123 N Scale!
Exclusive to 123 N Scale Magazine, you can now win two basic sets supplemented with various icons. What to do. Like our post on Instagram. Or send an e-mail to info@123nscale.nl It's that simple. The action runs through Nov. 20, 2022. Winners will be announced Nov. 22, 2022. No correspondence can be entered into about the results and the products won cannot be converted into cash.
Mobax's website: Mobax.de
This article is also available in:

Nederlands