There is no doubt about it, 3D printing offers whole new possibilities for model railroad enthusiasts. Also in scale N. For example, Noch has recently started making certain series of its mini figures with a 3D printer. Is this progress?
Like laser-cut technology, 3D printing is a step into the future. Noch is now taking the first step with 3D printed model figures. There are sets featuring firefighters, workmen, travelers and railroad workers.
Below is a comparison between the new 3D printed figure (left) and the traditional method of production (right).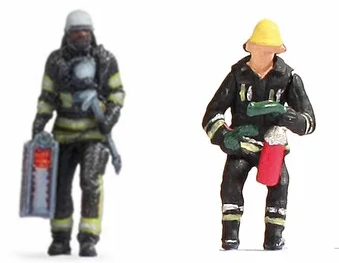 The first thing you notice is the slightly "grainy" texture of the figures. That, of course, is because of the way a 3D printer works. From a distance, this is barely visible. The figures look even more natural than their traditional variant. This is because the colors no longer stand out as much.
The second thing to notice is that there is more detailing. For example, look at the oxygen mask on the new figure. Finally, the recommended retail price for the 3D variants is about 50 cents lower.
Indirectly, the big advantage is probably that Noch is now finally saying goodbye to the old molds with all kinds of traditional German figures. Thus, the little inhabitants of our N world finally become of this age as well. This firefighter, at least, is a good example of that.
This article is also available in:

Nederlands