It was one of the most viewed videos on our Instagram account. A scene in which a Dutch 1600 series passes by and is captured by train spotters. The moment the locomotive passes by, the miniature flashers of the little preiser men flash. A great effect. And you can now do that in N scale.
The company Schönwitz supplies can-and-ready figurines with a small LED. The bright light is completely concealed in the figure created by Schönwitz himself. It may not have the sophistication that other suppliers such as Preiser and Noch have. After all, the puppet also contains wiring and the LED. It is also not quite right in terms of dimensions. The LED is almost the size of a human's head.
Nevertheless, the effect is very nice. Before this scenery can be enjoyed, a control unit must be purchased in addition to the dolls. These electronics control the flash units. This can be anywhere from one or up to two figures.
Setting is done physically on the control unit. It takes some figuring out to get this working. The module does provide a testing capability. Unfortunately, there is no way to control this with a digital control center. A missed opportunity.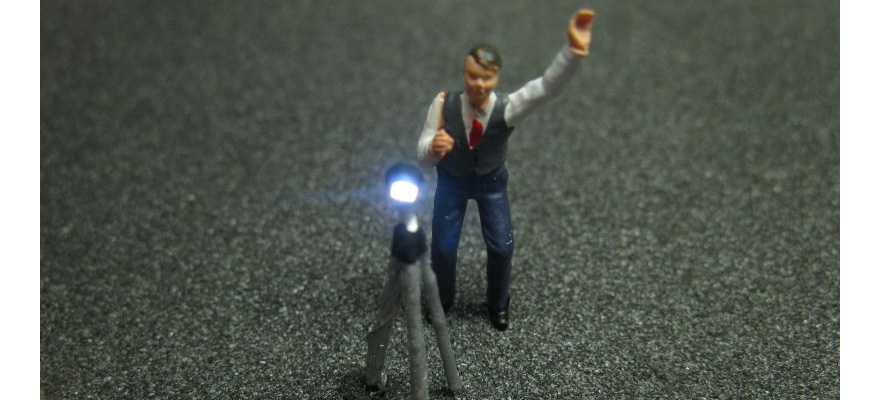 By connecting the switching unit to a relay, the power supply can be controlled. This creates an opportunity, for example, to turn on the power the moment a train passes by. It does take finding the right coloring of the LED and brightness. In fact, the light output is very high.
This striking effect on the model railroad is paid dearly, for one photographer with flash and necessary electronics the cost is about 45 euros.
Fotoblitzmodul M10 Fotoblitzer
Schönwitz 51303
Price 24.99
Schönwitz 51364* Fotograf mit LED
Price 17.99
This article is also available in:

Nederlands